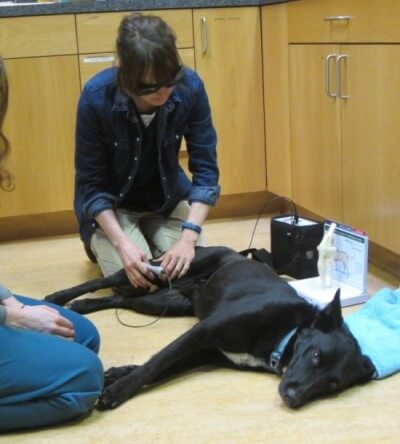 We are excited to announce that we are now offering cold laser therapy for our patients! Our new associate, Dr. Karen Davies, has had many years of experience with laser and acupuncture, and we are now able to have this therapy available for all our doctors to help their patients. In addition to the benefits of acupuncture and chiropractic therapies, the laser provides us with another tool to help treat musculoskeletal conditions that cause pain and discomfort.
From arthritis in our older patients, to sports injuries in our younger ones, the laser can help increase strength and mobility, as well as ease the recovery from surgery. It also can be used to stimulate acupuncture points for our patients who dislike acupuncture needles.
To benefit from cold laser therapy, a patient is first evaluated by any one of our doctors. After the physical exam, the doctor may recommend a series of laser treatments to be performed by one of our trained staff members.
Working in veterinary rehabilitation has given Dr. Davies insights on how to help injured dogs get back to their previous active lifestyles, as well as helping older animals live longer, more active lives. In addition to working with musculoskeletal conditions, Dr. Davies enjoys all aspects of veterinary medicine, from getting to know new patients as puppies and kittens, to working with older animals that are slowing down and enjoying their golden years.